OUR WORK IN AFGHANISTAN
Quick facts
35 million people
55% living on less than USD $1.90 / day
50.8% of women have experienced intimate partner violence
Decades of instability, violence and conflict have magnified the impact of droughts, famine, earthquakes, floods and landslides that occur with tragic regularity in Afghanistan.
Despite the remarkable ingenuity that the people of Afghanistan have demonstrated in coping in an unstable environment, the decades of conflict have left many people chronically poor, with little access to food or a source of income. The country remains one of the least developed in the world.
It's a demanding environment to contribute aid to yet Oxfam Australia is committed to improving livelihoods in Afghanistan, especially helping women to gain economic control over their lives.
Areas of work
Gender Justice, Resilience
One story of change
Oxfam's Building Resilient Livelihoods Project equips people with the skills and knowledge to increase their household income. But it is our goat program that is changing Kobra's life, in more way than one.
"When I received the goat it became my job to look after them and I became active. I am a mother and I took care of my children with the powdery milk, and now I have the feeling that the goats are like my baby. I am feeding the goats with powdery milk and giving it sweet water. "
Goats are more popular than cows for dairy products in Afghanistan. Oxfam distributes a special breed that produce 2-3 kids per year, rather than only 1 kid per year like the local breeds. By raising a family of goats, men and women like Kobra can have more milk to drink or sell, and if needed, they can even sell a goat or two.
Goats are an economic lifeline for people living in Villages like Kobra's. "These goats are very expensive here, and for the poor people it's very difficult to have access to these goats because we don't have enough money to buy that. But now we have these goats and some knowledge on how to take care of them." Kobra is breeding her much-loved goats and using skills acquired by training with Oxfam to produce and sell milk, cheese, butter and other traditional dairy-based products.
Kobra is married to Sekander and they have 6 sons and 2 daughters ranging from 13 – 27 years old. They used to rely on their eldest son to make ends meet, however, their financial situation changed when he was no longer permitted to work in Iran to send money home. They want to use income from breeding goats to complete building their house, and get an education for their children.
"I am more hopeful for the future and thankful for the Oxfam staff because they are coming here and finding us and supporting us here."
Key projects
Building resilient livelihoods
Oxfam Australia is supporting rural communities in Afghanistan to improve the livelihoods and resilience of almost 15,000 people. Oxfam Australia is supporting dairy and almond producers to have better access to markets as well as increase the quality and quantity of their produce. This $1.5 million two year project (2018-2020) is phase two of the Australia Afghanistan Community Resilience Scheme (AACRS) implemented by Oxfam International on behalf of the Australian Government.
HOW YOU CAN HELP
We know the best way to fight poverty and injustice is to help people help themselves. Change the lives of vulnerable communities in Afghanistan and around the world today.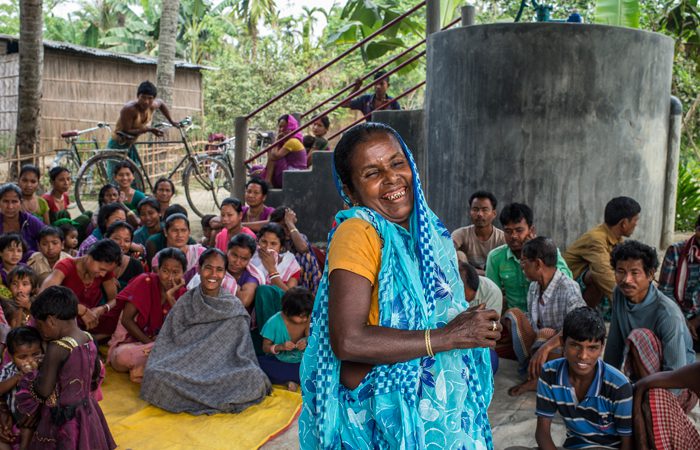 Australia's overseas aid budget has suffered from successive cuts. Join the movement of Australians standing up for Australia's life-changing and life-saving aid program.
You can support Oxfam Australia's life-saving work by holding your own fundraiser or charity event and starting the conversation about poverty and injustice around the world.