OUR WORK IN INDONESIA
our impact
30

projects

53

partners

150,000

people helped
Quick facts
253million people
16.2%living on less than USD $1.25 / day
15.1%don't have access to safe water
Indonesia has seen significant economic growth in recent years, but poverty and inequality persist.
Small-scale producers receive no benefit from the country's financial growth and for poorer people — particularly women — employment can be unstable and unpredictable. Gender inequality means women are often excluded from making decisions — both in the home and at a policy level. High rates of gender-based violence mean there is still much to achieve.
Indonesia is also one of the most disaster-prone countries in the world. Disaster, coupled with the impacts of climate change, can have significant impact on local livelihoods.
Oxfam is committed to addressing gender inequality, economic disadvantage and preparing for and responding to disasters. We focus on the Eastern provinces of Indonesia where poverty is the deepest.
Key areas of work
Gender Justice, Livelihoods, Disaster Risk Reduction
One story of change
A few years ago, 48-year-old schoolteacher Lilik Agustiyaningsih learned that her husband had just married a second wife. Feeling devastated, ashamed and uncertain of how to move forward, Lilik accepted a friend's invitation to join the Indonesian Women's Coalition for Justice and Democracy (KPI).
Through her membership in KPI's Balai Perempuan (Women Hall), Lilik attended training which gave her knowledge and understanding of women's rights and laws on domestic violence. In the same year, Lilik's new awareness of gender equality empowered her to file for divorce.
In Indonesia, divorce for women is highly stigmatised and remains a difficult decision as women are often financially dependent on their husbands. There is also no system in place to provide child support for separated parents.
Since then, Lilik has facilitated workshops on Women's Role in Development, become a community organiser, and was elected KPI group leader for Nusa Tenggara Barat province. She is regularly invited by the village head to discuss future planning.
In the lead-up to Indonesia's presidential election, Lilik was approached by one of the political parties and nominated as a legislative candidate.
"I wanted to run as a legislative candidate because I see the community's condition, especially women's condition," Lilik says. "They are still very submissive and obedient to their husbands. I wanted to try so I can change policies."
Although she wasn't elected, Lilik's nomination as an outspoken advocate of women's rights is significant, and her membership in KPI's Balai Perempuan exposed her to the training, knowledge and peer support that enhanced her leadership abilities and contributed to her transformation.
Key projects
Indonesia Gender Justice
Oxfam is supporting national and community civil society organisations to promote gender equality between women and men in Eastern Indonesia. Oxfam is focused on increasing women's political participation, eradicating gender-based violence, and ensuring fair access to justice services. This seven year project (2013-2020) is supported by the Australian Government through the Australian NGO Cooperation Program (ANCP).
Indonesia Disaster Risk Management
Oxfam is working to improve the capacity of people living in poverty, particularly women, to reduce their vulnerability to disasters. This 15 year project (2005-2020) is supported by the Australian Government through the Australian NGO Cooperation Program (ANCP).  Thanks to ANCP, Oxfam is helping communities cope with shocks and adapt to change through preparing for future disasters. This is achieved through preparedness measures, resilience-building and strengthening multi-stakeholder engagement.
Fair, Sustainable and Inclusive Economic Development in Indonesia
Oxfam is promoting climate resilient agriculture; food security; and fair, accountable and inclusive development. Oxfam is working with women and men small scale food producers, village enterprises, young farmers and labourers to bring about positive changes to their income and lives. The nine year project (2011-2020) is supported by the Australian Government through the Australian NGO Cooperation Program (ANCP).
HOW YOU CAN HELP
We know the best way to fight poverty and injustice is to help people help themselves. Change the lives of vulnerable communities in Indonesia and around the world today.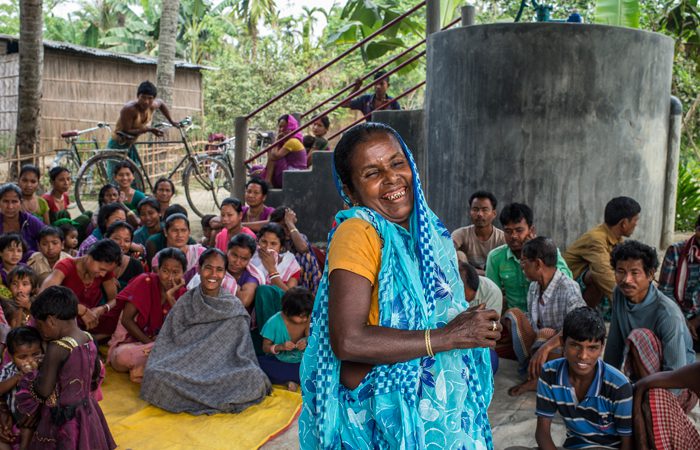 Australia's overseas aid budget has suffered from successive cuts. Join the movement of Australians standing up for Australia's life-changing and life-saving aid program.
Switch to Oxfam Fair coffee, tea and chocolate and you'll ensure farmers receive fair wages and conditions, plus you are contributing to Oxfam's work to end poverty.