OUR WORK IN INDONESIA
Quick facts
263 million people
6.5% living on less than USD $1.90 / day
18.3% of women have experienced intimate partner violence
Indonesia has seen significant economic growth in recent years, but poverty and inequality persist.
Small-scale producers receive no benefit from the country's financial growth and for poorer people — particularly women — employment can be unstable and unpredictable. Gender inequality means women are often excluded from making decisions — both in the home and at a policy level. High rates of gender-based violence mean there is still much to achieve.
Indonesia is also one of the most disaster-prone countries in the world. Disaster, coupled with the impacts of climate change, can have significant impact on local livelihoods.
Oxfam Australia is committed to addressing gender inequality, economic disadvantage and preparing for and responding to disasters. We focus on the Eastern provinces of Indonesia where poverty is the deepest.
Key areas of work
Gender Justice, Resilience and Disaster Risk Reduction
One story of change
Oxfam and partners distributed tarpaulins and sarongs following the earthquake that devastated Sulawesi. Mas'ad and her three children were living with their relatives in a makeshift camp for internally displaced people. But Mas'ad says, "I can't stand living in these camps — there are no toilets… we must go to the hills to find clean water. My first child was stressed." Masád was close to tears when she returned to her house and saw that it had collapsed. "We have been just staying in this house for two months. The tremor has hit and it destroyed when the second earthquake struck. Thankfully, my three children survived," she says.
On 28 September 2018, a shallow earthquake struck Minahasa Peninsula, Sulawesi, Indonesia. The quake was located 77 km (48 mi) away from the provincial capital Palu.
Oxfam is providing humanitarian assistance in Indonesia, after the island of Sulawesi was hit by a 7.4 magnitude earthquake that prompted a massive tsunami that devastated villages and homes. More than 2,000 people have lost their lives so far and at least 2 million people may be affected.
Oxfam Indonesia Humanitarian Manager, Ancilla Bere, said: "Oxfam is scaling up its response to reach 500,000 people with essential aid supplies like ready-to-eat food, water purification kits and shelter packs." Through the Australian Humanitarian Partnership funding mechanism (AHP) from the Australian Government, Oxfam is supporting partners to deliver life-saving water and sanitation work.
HELP SAVE LIVES
Right now Oxfam is responding to emergencies around the world, including the recent earthquake and tsunami in Indonesia.
Key projects
Indonesia Climate and Disaster Resilient Communities
Oxfam Australia is working to support vulnerable rural and urban communities, especially women, in Indonesia by increasing climate resilient sustainable livelihoods, preparedness response and adaptive capacity to disasters, and enabling inclusive disaster risk management systems. This four-year project (2018-2022) is supported by the Australian Government through the Australian NGO Cooperation Program (ANCP).
Indonesia Women in Leadership for Gender Equality and Empowerment
Oxfam Australia is supporting national and community civil society organisations to promote gender equality in Eastern Indonesia by increasing women's economic empowerment, promoting women's political participation and leadership and reducing violence against women and girls. This two year project (2018-2020) is supported by the Australian Government through the Australian NGO Cooperation Program (ANCP).
HOW YOU CAN HELP
We know the best way to fight poverty and injustice is to help people help themselves. Change the lives of vulnerable communities in Indonesia and around the world today.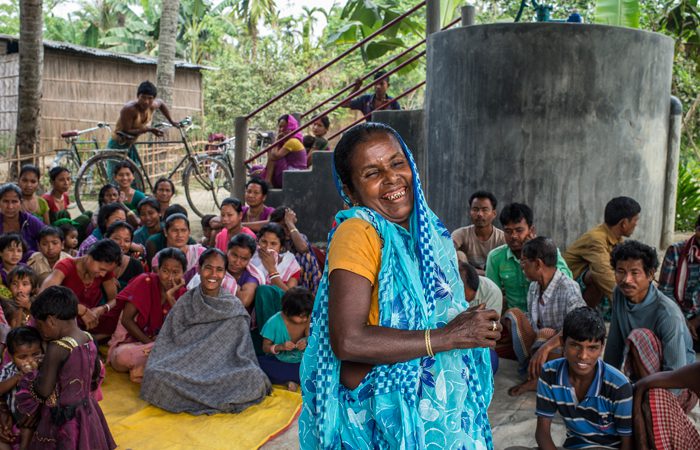 Australia's overseas aid budget has suffered from successive cuts. Join the movement of Australians standing up for Australia's life-changing and life-saving aid program.
Switch to Oxfam Fair coffee, tea and chocolate and you'll ensure farmers receive fair wages and conditions, plus you are contributing to Oxfam's work to end poverty.