OUR WORK IN NEPAL
Quick facts
29 million people
15% living on less than USD $1.90 / day
25% of women have experienced intimate partner violence
Despite its popularity as a tourist destination, Nepal is one of the world's poorest countries, with several factors that impede it development. Nepal's difficult topography, gender disparity, political instability and the severe destruction from recent natural disasters represent significant roadblocks to ending poverty.
On Saturday 25 April 2015 a mammoth 7.6 magnitude earthquake struck Nepal. In the weeks that followed, the country experienced more than 480 aftershocks, intensifying the widespread destruction and enormous loss of life that had already devastated the region.
The government of Nepal estimated over 8,969 casualties and 22,300 injuries reported. It is estimated that the lives of eight million people, which is almost one-third of the population of Nepal, have been impacted by the earthquake and its aftershocks. Almost 800,000 homes were either damaged or completely destroyed.
Since the first earthquake hit, Oxfam Australia has been working to provide clean water, toilets, hygiene kits, emergency shelter, food and seeds to affected communities. With the help of our generous supporters, Oxfam has reached more than 626,000 people across eight districts.
But much more help is needed. Oxfam Australia will be there for the long-term, helping the Nepalese people rebuild their lives.
Key areas of work
Humanitarian Response – Shelter, Water, Sanitation and Hygiene (WASH), Food Security and Livelihood, Gender Justice, Disaster Risk Reduction
One story of change
Sampatiya and her family live in a tiny house made of palm leaves in the flood plains of Saptari. Every year in the monsoon season, her house is flooded and in the floods of August 2017 her house was completely underwater.
"When the flood comes, I get scared. I get scared thinking about where to go now, and what to do now? Who will take me with them? My heart would start pounding."
It took eight days for the water to subside and another month for everything to dry. This is part of life for Sampatiya and her community but Oxfam have been working with them to make it slightly easier.
Outside of the emergency support that is provided like hygiene kits and water filters, Sampatiya said she feels less scared now because the community has been trained to build an emergency action plan, there are rescue teams and Oxfam has built an evacuation shelter, an access road and also provided life jackets. She knows she will be able to keep her daughters safe, even it she does have to rebuild her home each year, and that is wonderful for her.
"It's better nowadays than it was in the past. There were no bridges or shelters in the past. Now, there is warning siren and we can get away. Previously, the roads were deep and there were chances of one drowning there."
"Now, we have life jackets. There are information groups, who warn us. We put on the life jackets and are prepared, like cooking food and taking our food with us before leaving to a safe place."
Key projects
Nepal Earthquake Response
Since the 2015 earthquake, Oxfam Australia has been supporting earthquake-affected women, men and children through shelter, WASH, livelihood and gender initiatives, and reconstruction to support families in rebuilding their lives.
 Sustainable Livelihoods Support for the Earthquake Affected Families in Nepal 
Oxfam Australia has been working in partnership with Fair Trade Group Nepal (FTGN) to improve livelihoods and economic opportunities for earthquake affected men and women in five districts of Nepal.
Nepal Flood Response 2017
Oxfam Australia is providing support for flood affected communities in Nepal in response to the 2017 floods. Oxfam Australia is working with World Vision to provide clean water and improved sanitation, and increased access to food and nutrition to communities affected by the floods. This one year project (2017-2018) is implemented on behalf of the Australian Government through the Australia Humanitarian Partnership Agreement.
HOW YOU CAN HELP
We know the best way to fight poverty and injustice is to help people help themselves. Change the lives of vulnerable communities in Nepal and around the world today.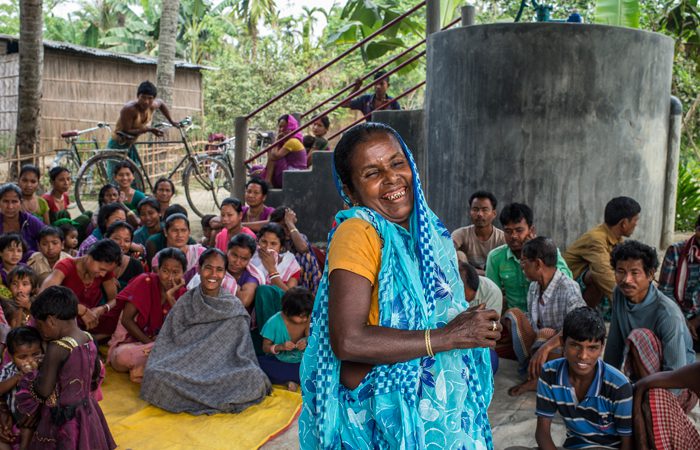 Australia's overseas aid budget has suffered from successive cuts. Join the movement of Australians standing up for Australia's life-changing and life-saving aid program.
Partake in a little guilt-free shopping and support communities in 38 countries around the world. Oxfam shops have unique treasures, just waiting for you to take them home.