OUR WORK IN ZIMBABWE
our impact
2

projects

11

partners

165,776

people helped
Quick facts
14.15million people
68%living on less than USD $1.25 / day
20.1%don't have access to safe water
Once considered the jewel of Southern Africa, Zimbabwe now faces an uncertain future. After years of economic instability, and the devastating impacts of HIV and AIDS, millions of Zimbabweans are confronted with severe food shortages.
Despite steady progress being made in the promotion of gender equality, there are significant challenges in addressing Zimbabwe's societal prejudice against women. Issues such as increased vulnerability during disasters and conflict, sexual violence and a deep-rooted patriarchy mean it is difficult for women to stand up for their rights.
The poorest households and communities in Zimbabwe face complex challenges to meet their practical needs. Intense weather events frequently ravage the landscape, with crippling periods of drought made worse by the impacts of climate change. Repeated internal conflicts in the country have also led to significant economic uncertainty, which in turn creates tenuous livelihood security for those Zimbabweans already living in poverty.
Oxfam's work in Zimbabwe primarily focuses on helping the country's poorest people (in particular those affected by HIV and AIDS) receive services for HIV prevention, treatment and care, as well as support in the development of a secure personal income. Oxfam is also undertaking relief work in response to the El Niño induced drought in Zimbabwe.
Key areas of work
Governance, HIV and AIDS, Food and income insecurity, Gender justice
One story of change
"The Sisters Project saved my life because when I joined it I was very depressed and I wanted to commit suicide," said Kudzai Mlilo.
Kudzai, a 25-year-old mother of two, is a mentor for the Sisters Project. The scheme educates young women about their sexual and reproductive health rights by forming mentorship programs. Thanks to funding from Youth for Today and Tomorrow, the project is now established across several wards in Zimbabwe.
In a country devastated by the impacts of HIV and AIDS, the Sisters Project has been welcomed by Zimbabwean communities — Kudzai is just one of 120 mothers who have become beneficiaries.
"The project educated me that being HIV positive is not the end of my life as I can live positively and take good care of my beautiful children," Kudzai adds.
Since becoming part of the program, she now mentors two other girls. Kudzai says she has learned to insist on the use of a condom every time she engages in sex, and educates other girls to be assertive and know their rights.
HOW YOU CAN HELP
We know the best way to fight poverty and injustice is to help people help themselves. Change the lives of vulnerable communities in Zimbabwe and around the world today.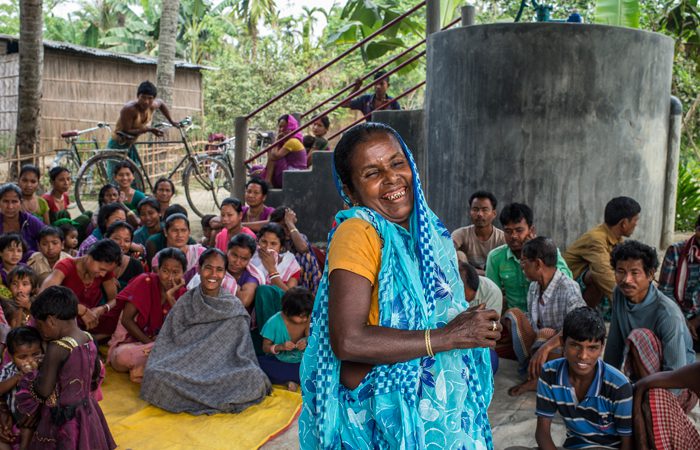 Australia's overseas aid budget has suffered from successive cuts. Join the movement of Australians standing up for Australia's life-changing and life-saving aid program.
Partake in a little guilt-free shopping and support communities in 38 countries around the world. Oxfam shops have unique treasures, just waiting for you to take them home.