OUR WORK IN CAMBODIA
our impact
21

projects

45

partners

100,000

people helped
Quick facts
15.4million people
18.6%living on less than USD $1.25 / day
28.7%don't have access to safe water
Cambodia is one of the most beautiful countries in South East Asia but also one of the poorest. More than 50% of the population is less than 25 years old — a legacy of Pol Pot's regime. Many adults missed out on an education which has led to a lack of productive skills across the country. High unemployment means that making a living is difficult.
The effects of this are pronounced in the remote countryside, which suffers from a lack of basic infrastructure and services. Oxfam Australia's water, sanitation and hygiene projects (WASH) work with local communities and the Cambodian government to increase access to clean water, empower women, and improve community hygiene.
Oxfam Australia's aim is to create sustainable livelihoods and ensure equal access to resources and opportunities for both women and men.
Key areas of work
Social Equality, Disaster Risk Reduction, Women's Rights
One story of change
Several times a month, Koun Sary's family is struck with illness. Living in the village of Veal Sambou, situated in Kratie province, the lack of hygiene means Koun must spend around 25% of his family's monthly $75 income on health care.
Unfortunately, Koun's village is not alone. In Cambodia, poor sanitary conditions and a lack of clean water causes widespread disease. Diarrhoea, dengue fever and flu viruses are common.
"We usually go to a private clinic, and we spend our money for both treatment and travel and this normally costs us around $15 each time", says Koun.
After Oxfam's health promoters had talked with Koun about preventing more infections sweeping through his village, he began joining information sessions on water, sanitation and hygiene (WASH). His family have since been applying the Oxfam WASH practices at home, where they have already saved money usually spent on medicine and treatment. With these savings, Koun and his wife U Sok plan to contribute $37.50 to build a toilet to help keep his home disease-free.
"$37.50 was not a small amount for my family, but I made the decision to contribute and have a toilet built because it's our responsibility to improve our health", U Sok says with a smiling face. With a toilet installed the Sarys can save more money to build a bigger house, and ensure their daughter receives a good education — her best chance of lifting herself out of poverty.
Key projects
Inclusion Pillar Project
Oxfam Australia is working to increase the inclusion of civil society in water resource governance and decision-making in the Mekong region (Vietnam, Cambodia, Myanmar and Laos). Through this project Oxfam Australia is strengthening local civil society and communities to participate in decisions and management around water. The Inclusion Pillar Project is part of Oxfam Australia's Mekong Regional Water Governance program. This $9 million five year project (2014-2019) is part of an Australian aid initiative implemented by Oxfam Australia on behalf of the Australian Government. It is one of four pillar projects within the Department of Foreign Affairs and Trade's Mekong Water Resources Program (2014-2018).
HOW YOU CAN HELP
We know the best way to fight poverty and injustice is to help people help themselves. Change the lives of communities in Cambodia and around the world today.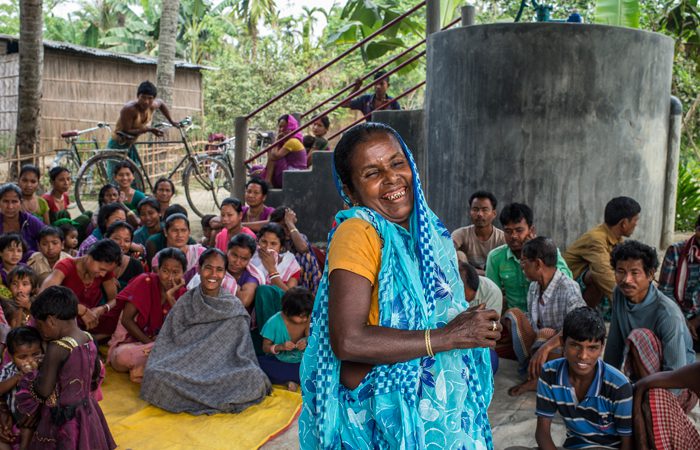 Australia's overseas aid budget has suffered from successive cuts. Join the movement of Australians standing up for Australia's life-changing and life-saving aid program.
Take on Oxfam Trailwalker, the ultimate challenge! Tackle 100km within 48 hours as a team of four, and make a difference by raising funds to help overcome global poverty.