OUR WORK IN THE PHILIPPINES
our impact
20

projects

15

partners

80,000

people helped
Quick facts
107,668,321 people
18.4% living on less than USD $1.25/day
91.8% don't have access to safe water
Despite its classification as a middle income country, the Philippines has about 17 million people living below the poverty line. The country also has persistently high levels of inequality, and in regions such as Mindanao armed conflict threatens stability and development.
It's also extremely vulnerable to natural disasters – such as Typhoon Haiyan – which devastated the Philippines with high speed winds and a tsumani-like storm surge on 8 November 2013.
Oxfam's programs in the Philippines focus primarily on addressing economic inequality, promoting sustainable peace, and reducing disaster risk and preparing for disaster response.
Key areas of work
Economic Justice, Rights in Crisis, Disaster Risk Reduction
One story of change
When Typhoon Haiyan struck the Philippines it killed over 6,000 people and displaced over four million.
Along with the one million homes destroyed or damaged by the typhoon, people lost essential and basic items needed for daily life. Forced to live in extremely challenging conditions, public health risks were high and there was a risk of sickness and disease spreading rapidly.
Oxfam's distribution of hygiene kits and water kits allowed families to keep themselves clean and healthy even while displaced from their homes and communities.
Jerry cans and bottles of 'Hyposol' for disinfecting water ensured that people could access safe drinking water. Basic hygiene kits contained soap for personal use, household soap, toothbrushes, toothpaste, underwear (pants) for women, men and children, bed sheets, mats, sanitary towels and 'malong' – pieces of cloth that can be worn.
People soon found many other practical uses for the 'malong', using them as a sheet to protect themselves from the sun or mosquitoes, as a face cloth or towel, or to cover their bodies to maintain dignity when washing outside.
'I cried when I opened the bag. There were so many items. So many things we all need,' said Vergie Ochia, one of the many people affected by the typhoon.
When asked for his feedback about the hygiene kits, Diego Bermiso  laughed and rubbed his arms up and down and said: 'We can wash with bubbles!"
Key projects
Women's Empowerment for Leadership in Development and Peace in the Bangsamoro
This three year project (2017-2020) is supported by the Australian Government as part of the Australian Partnerships for Peace Program. It aims to support women leaders from diverse social groups to engage in the Bangsamoro Peace Process in central Mindanao. The peace process is to address and resolve the long-standing conflict. Oxfam Australia and partners are working with marginalised groups, including women, to increase their participation in the process and ensure greater representation.
Inclusive and Affordable Financial Services in the Philippines (I-AFFORD)
This 18 month (2017-2018) Australian aid initiative implemented by Oxfam Australia on behalf of the Australian Government aims to address the lack of accessible and secure financial services for Filipinos living in poverty. We work with communities who are unable to take advantage of social protection and financial programs like savings, loans and micro-insurance. Oxfam's innovative digital finance infrastructure platform (I AFFORD) allows poor women and men to save money and transfer cash safely. This allows communities to better prepare for and recover from disasters.
HOW YOU CAN HELP
By making a monthly donation to Oxfam, you're helping our response teams in the Philippines save lives by providing food, water and shelter every day of the year.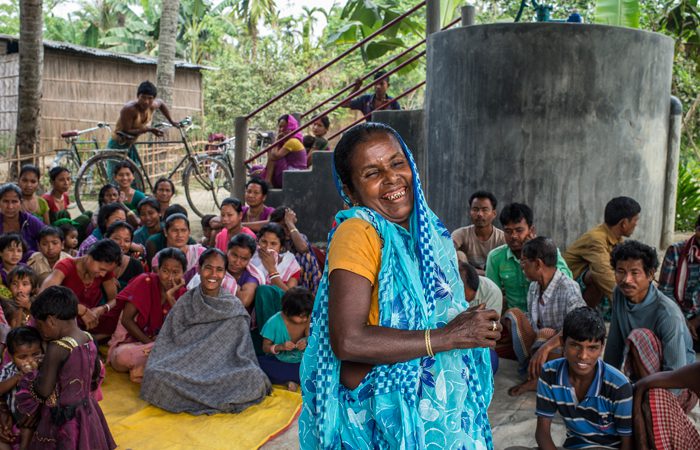 Australia's overseas aid budget has suffered from successive cuts. Join the movement of Australians standing up for Australia's life-changing and life-saving aid program.
Buy a goat or another Oxfam Unwrapped gift to help transform the lives of people living in poverty, by providing education, clean water and other life-changing essentials.