OUR WORK IN LAOS
our impact
2

projects

7

partners

48,190

people helped
Quick facts
6.8million people
33.88%

living on less than USD $1.25 / day

28.5%

don't have access to safe water
After years of isolation, Laos was once considered one of Southeast Asia's most untainted environments. Today the country is going through its greatest period of development which has led to significant economic growth — but the development is doing little to improve the lives of 80% of the population living in remote rural areas.
While forests are being cleared for commercial plantations, changing weather patterns are resulting in droughts, flash flooding and low-yielding crops. These factors are affecting the lives of rural Laotians, who are reliant on the land and fisheries for survival.
Oxfam is now assisting communities to cope with natural disasters and the loss of access to natural resources. We're also seeking to promote gender equality, and recognition of the rights and needs of all Laos' diverse ethnic and social groups.
Key areas of work
Livelihoods, Gender Justice, Disaster Risk Reduction
One story of change
In 70 villages across several provinces, Oxfam, with the support of DFAT-Australian Aid, is aiming to reduce the burden of natural and human-made disasters amongst the poorest and most at-risk people in Laos.
The program also aims to promote gender equality by encouraging women to become involved in the establishment of Village Disaster Management Committees (VDMCs).
Initially, villages struggled to appoint women representatives for these committees as women traditionally have a lower role and participation in community activities and meetings.
But then, in the village of Sabong in TaOy District, Mrs. Bounmi became the first woman to be involved in a VDMC.
"I have been trained by Oxfam Australia about the role of village disaster management committees and the basics of community-based disaster risk management", Mrs Bounmi says.
"I know how to develop the village disaster management plan, how to involve women and how to report to district. I feel more confident in facilitating women group discussions on hazard mapping and disaster management planning which I can bring forward to VDMC, so the needs of women can be addressed well."
Her involvement has helped shed light on gender perspective and has also given a voice to women in disaster management. At 48 years of age, Mrs Bounmi has become the Deputy Head of her village.
"Now we have an early warning system in place in the village to inform villagers on forest fire, diarrhoea, malaria and drought", Mrs Bounmi adds. "VDMC members, including myself, are confident that we can inform villagers about disasters on time and reduce the impacts of potential disasters."
HOW YOU CAN HELP
We know the best way to fight poverty and injustice is to help people help themselves. Change the lives of vulnerable communities in Laos and around the world today.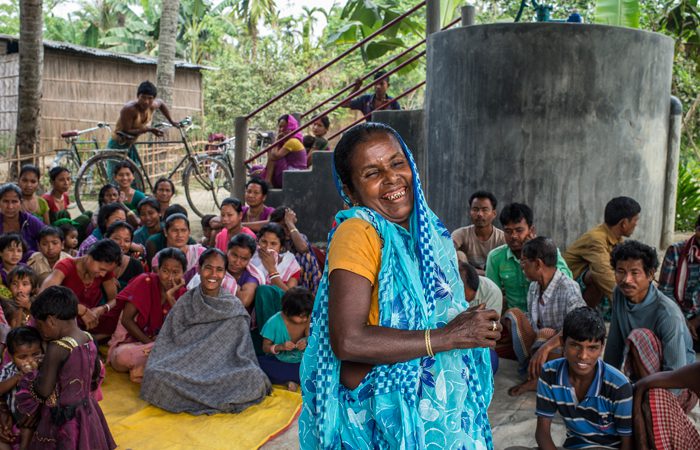 Australia's overseas aid budget has suffered from successive cuts. Join the movement of Australians standing up for Australia's life-changing and life-saving aid program.
Buy a goat or another Oxfam Unwrapped gift to help transform the lives of people living in poverty, by providing education, clean water and other life-changing essentials.