OUR WORK IN TIMOR-LESTE
our impact
8

projects

24

partners

30,000

people helped
Quick facts
1.13million people
41%living on less than USD $1.25 / day
29.5%don't have access to safe water
Timor-Leste is one of the world's newest and poorest countries — a small nation with around 74% of its population living in rural areas. It is also a land vulnerable to droughts, flash flooding, cyclones and unpredictable weather. And although rich in oil and gas, the revenue from these natural resources does not always reach where it is needed most. This has led to a critical need for improved infrastructure and essential services, such as education and health.
Inequality between urban and rural communities is also increasing, while issues of food security, unemployment, environmental degradation and gender-based violence are widespread.
For more than 40 years Oxfam Australia has been supporting development and humanitarian work in Timor-Leste. We're currently working on practical solutions to help rural communities out of poverty and towards sustainable livelihoods.
Key areas of work
Food Security, Essential Services and Infrastructure Development, Gender Justice
One story of change
Jose Babu Bana is a community member of Tbaen oni-Topu Honis in Oecusse district. For the 35-year-old father of four, life on the farm is a little more difficult than the average cultivator — Jose suffers from bilateral blindness.
Like many other farmers in Oecusse, Jose has traditionally used the slash and burn method to clear the land. But not only is this technique time consuming, the deforestation leads to erosion and has long lasting implications for climate change.
As a blind farmer, Jose feels invisible and is ostracised from community planning. His experience is unfortunately common amongst disabled communities throughout Timor-Leste.
Fortunately, Jose was able to join Topu Honis, a community-based organisation which offers climate change adaptation and technical assistance training to remote villages. The program, supported by Caritas Australia, Oxfam and partners under the Community-Based Adaptation program, includes training in seed diversification, planting techniques for different seasons and water management.
"Day by day, my family and I are satisfied with the progress in our garden", says Jose. "I have harvested the best yield — more than enough to cover the needs of my family while some can be sold in the market. I want to have many friends [and] I want to have my own cultivated garden."
Together with his wife, Lusia Alba, Jose built their permanent garden. Despite his impaired vision, he is familiar with the slope of the land and uses his other senses to guide him.
"I want to apply terracing, build the dam, do the in-row and in-hole tillage, as well as apply other efficient agricultural technologies".
With support from Topu Honis, Jose was able to learn diverse, climate-adaptive farming techniques and no longer burns trees to clear the land.
"After applying the environmentally friendly methods, I can fulfil my family's needs by selling my own yields. This feeds my family and can cover my family with clothes", says Jose.
There are currently 49 disabled persons involved in the program. Continuous community discussion and disability-inclusive approaches lead to positive outcomes and better opportunities for farmers like Jose.
Key projects
Strengthening Community Livelihoods in Timor-Leste
Oxfam Australia is utilising a community-led approach to improve the lives of vulnerable rural women and men in Timor-Leste. Oxfam Australia in partnership with 20 civil society organisations is working to contribute to equitable and resilient livelihood development for small scale women and men agricultural producers. This five year project (2015-2020) is supported by the Australian Government through the Australian NGO Cooperation Program (ANCP).
HOW YOU CAN HELP
We know the best way to fight poverty and injustice is to help people help themselves. Change the lives of vulnerable communities in Timor-Leste and around the world today.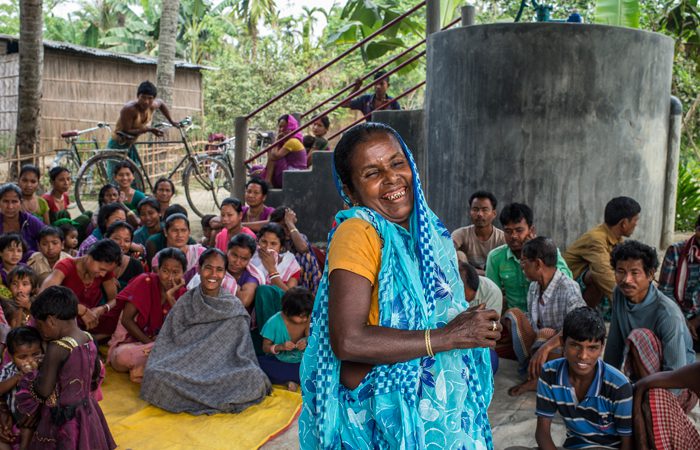 Australia's overseas aid budget has suffered from successive cuts. Join the movement of Australians standing up for Australia's life-changing and life-saving aid program.
Switch to Oxfam Fair coffee, tea and chocolate and you'll ensure farmers receive fair wages and conditions, plus you are contributing to Oxfam's work to end poverty.