OUR WORK IN PAKISTAN
Quick facts
197 million people
3.1% living on less than USD $1.90 / day
Pakistan's performance against international indicators on poverty, inequality, exclusion and vulnerability reveals significant challenges.
Gender inequality in Pakistan is prevalent and deep rooted. As a result, women are often unable to assert their social, economic and political rights.
Furthermore, with around 136 million (70% of its population) people acutely exposed to natural hazards, Pakistan ranks among top ten most disaster-prone countries in the world, largely because of poor governance, corruption, weak infrastructure and an inability to effectively implement policies to reduce risk
Oxfam is committed to addressing the critical issue of gender inequality, building the resilience of communities to respond to potential disasters and highlighting the important relationship between governance and inequality.
Key areas of work
Governance and Leadership, Resilience, Gender Justice
One story of change
The day Rana Ansar was elected as a Member of the Provincial Assembly of Sindh was the happiest of her life.
"When I first entered the Sindh Assembly, I kissed the ground. My parents couldn't have dreamed of entering this place and here I was. And as I read the oath, I kept praying for strength to stand by these words," Rana recalls.
Many would have thought Rana an unlikely candidate: a woman from an ordinary family with no political connections. As she explains, "I come from an underdeveloped part of Pakistan where the economic and educational opportunities available to women are very limited." But once she found her voice, people started to listen.
Rana is one of 1,500 inspirational leaders in Pakistan who took part in Oxfam's Raising Her Voice and LISTEN projects, which empower women — especially from the social, religious and economic margins — to stand up for women's rights and make their voices heard at all levels of politics, from local to national.
These projects prepared Rana well for political life: "Oxfam and Aurat Foundation gave us booklets on effective leadership, budgeting, writing and passing resolutions."
Rana served as a Member of the Provincial Assembly until May 2018, working to provide education, health and water "to ensure people get these facilities, which are not just important for them, but also their future generations".
"I dream big now. I wonder how one becomes Prime Minister. I know now I can be the Prime Minister too, it's not impossible."
Rana was part of the first phase of the LISTEN project which is now entering its third phase, funded by the Australian NGO Cooperation Program (ANCP) and implemented by Oxfam.
Key projects
She Can Lead Women's Political Emancipation in Pakistan
Oxfam Australia is working to support the strengthening of democracy in Pakistan, focusing on gender responsiveness in electoral processes and promoting women's political emancipation and leadership. This three-year project (2017-2020) is supported by the Australian Government through the Australian NGO Cooperation Program (ANCP). Thanks to ANCP, Oxfam Australia is able to engage with Women Leaders Groups to ensure their equal participation in decision-making and political processes.
Building Resilient Communities in Pakistan
Oxfam is working to improve the resilience of rural communities and government authorities in Sindh, Pakistan to build understanding, knowledge and skills to prepare for, adapt to and mitigate climate and disaster risks. This four-year project (2018-2022) is supported by the Australian Government through the Australian NGO Cooperation Program (ANCP). Thanks to ANCP, Oxfam is able to engage with disaster-prone communities to ensure they are better able to cope and prepare for natural disasters, such as floods and droughts.
Want to know what Oxfam is doing to tackle the clean water crisis in Pakistan? Find out more or donate now.
HOW YOU CAN HELP
We know the best way to fight poverty and injustice is to help people help themselves. Change the lives of vulnerable communities in Pakistan and around the world today.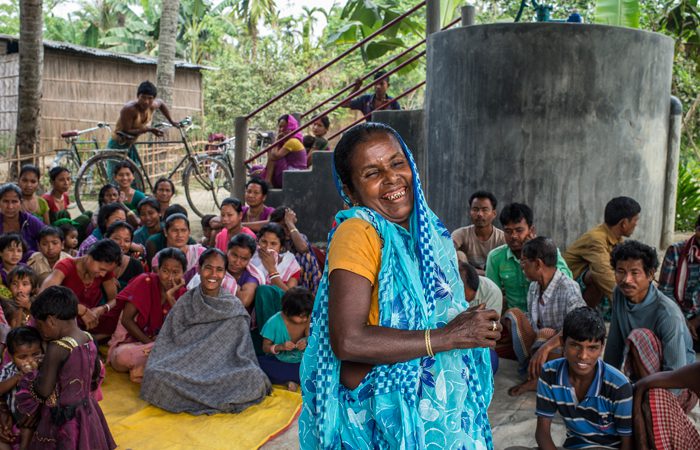 Australia's overseas aid budget has suffered from successive cuts. Join the movement of Australians standing up for Australia's life-changing and life-saving aid program.
We need you! By volunteering with Oxfam, you'll be helping us work towards a just world without poverty. You'll meet a bunch of like-minded people and have fun too.