OUR WORK IN SOLOMON ISLANDS
our impact
7

projects

18

partners

10,000

people helped
Quick facts
609,883people
22.7%living on less than USD $1.25 / day
19.5%don't have access to safe water
The Solomon Islands may be small in geographic size, but its people still face the same complex challenges as any developing nation. The majority of Solomon Islanders live in widely-dispersed villages, with few opportunities for generating a significant income.
Poor infrastructure only makes life more challenging, particularly during times of natural disaster. The country's pacific region is highly vulnerable to devastating climate events, such as cyclones, tsunamis and earthquakes.
Meanwhile, there exist lingering amounts of political tension which remain from several recent armed conflicts. These will need to be addressed for the country to begin reaping the benefits of trade on the international market.
As with many developing countries, Solomon Islander society suffers from pervasive gender inequality. This is an area which Oxfam Australia's community engagement programs are specifically focused, aiming to educate and prevent against any forms of gender-based prejudice or violence.
Key areas of work
Gender Justice, Disaster Risk Reduction, Civil Society Strengthening and Coordination
One story of change
When recent flash flooding and heavy rains hit the Solomon Islands' capital of Honiara, entire communities were swept away leaving tens of thousands of people homeless. Critical infrastructure was destroyed, with major access bridges and roads collapsing, leaving entire areas of the city isolated. During the worst of the disaster, it was estimated that over 20% of Honiara's population sheltered in evacuation centres.
Oxfam's aid response was able to reach over 7,000 people, distributing hygiene kits and everyday tools like tarpaulins, buckets, jerry cans and mosquito nets.
By giving out these supplies within the first few weeks following the flooding, families were able to keep themselves clean and healthy even while displaced from their homes and communities. We received tremendous feedback from community members who were happy with the timeliness of our flood response.
"We asked Oxfam for help," one Solomon Islander said. "They came and visited and talked with us about our immediate needs. The following day they brought us rice, tuna and bush knives."
Locals also appreciated being consulted about their needs and the respectful way in which the distributions were undertaken.
"Mifela barava hapi (we were really happy)," community members noted. "Oxfam sat down with our families and discussed with us and everyone was able to peacefully get their tools (seeds and toolkits for re-establishing livelihoods)."
Key projects
Herem Staka Vois
Through the Herem Staka Vois (Many Voices to be Heard) project, Oxfam Australia is working to support the growth and strengthening of civil society organisations in Solomon Islands. Oxfam Australia and partners are providing opportunities for communities, particularly women, youth and marginalised people, to be heard at all levels of public discourse and decision making. The five year initiative (2013-2018) is supported by the Australian Government through the Australian NGO Cooperation Program (ANCP).
Let's Make our Families Safe (Safe Families)
The Let's Make our Families Safe (Safe Families) program acknowledges the role of the family and community in preventing violence and supporting survivors. Oxfam Australia is utilising a strategic approach to enable change at the individual and collective levels, and within informal and formal institutions. Oxfam Australia are working to shift women's and men's attitudes and beliefs on domestic and family violence and increase women's access to resources. The three year (2014-2017) $4.5 million project is supported by the Australian Government.
HOW YOU CAN HELP
We know the best way to fight poverty and injustice is to help people help themselves. Change the lives of vulnerable communities in The Solomon Islands and around the world today.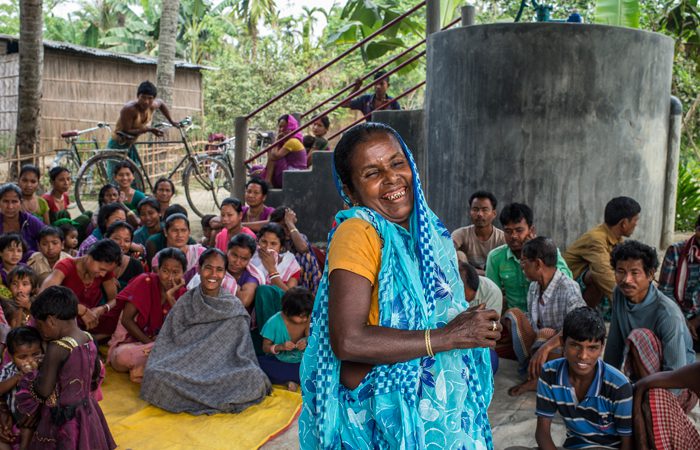 Australia's overseas aid budget has suffered from successive cuts. Join the movement of Australians standing up for Australia's life-changing and life-saving aid program.
You can support Oxfam's life-saving work by holding your own fundraiser or charity event and starting the conversation about poverty and injustice around the world.