Tackling poverty together
At Oxfam we believe all lives are equal and no-one should live in poverty.
We join forces with people who share this belief, to empower communities to build better lives for themselves.
That's why we are there on the ground, not only to save lives in times of crisis, but also to develop lasting solutions.
Our work spans wide because there are many causes of poverty. That's why we're also in front of decision-makers, governments and corporations, and speak out on the big issues.
Together we are tackling poverty by changing minds, systems and lives.
We can't do it without you
If you're already an Oxfam supporter, thank you!
If not, we'd love you to join our movement for change — millions of people around the world that are committed to tackling poverty. We've already made great progress, but we simply can't do what we do without you.
A hand up not a hand out
We don't believe in band-aids. We believe in long-term solutions that address the root causes of poverty. We know from decades of experience that the best approach is to work directly with the communities affected by poverty to overcome the challenges they face. That's because no one understands their problems better than they do; they just need a little help.
Together, we can empower people to improve their own lives and create more opportunities for their families. Join our community of supporters who donate regularly and you'll help Oxfam saves lives around the world. It's one of the best ways you can help to tackle poverty.
Our rights-based approach
When people have the power to claim their basic human rights, they can escape poverty —permanently. This core belief underpins our programs in more than 30 countries and Oxfam International programs in more than 70 countries. With our partners, allies and with local communities, we empower people to defend and uphold their rights.
Campaigning for change
Poverty has many complex causes — so there's no quick, easy one-size-fits-all solution. Long-term, large-scale change requires much more than immediate support for people in need. It also requires political, social and economic change, which is why we lobby politicians and mobilise communities to change hearts and minds.
Responding to emergencies
When disasters strike, affected communities need life-saving support and supplies — fast. With help from our generous supporters, we deliver vital aid, support and protection. We also help vulnerable communities prepare for future crises. Right now, we're responding to these emergencies around the world.
Enough food for all
With the world population expected to hit 9 billion by 2050, resources for food production — land, water, fuels and crops — will be stretched to their limits. Climate change will only exacerbate the problem. So we work with vulnerable communities to secure food supply and make sure that everyone has enough to eat.
Women's rights
Despite progress towards equality, many women and girls still experience significant injustice that perpetuates poverty and keeps them from claiming their rights. So we empower women and other gender minority communities to speak out, demand justice and gain independence.
The right to gender justice underpins all of our work.
A fair share
Natural resources are vital for prosperity and marginalised communities often miss out on their fair share. This situation is only worsened by the impacts of climate change. So we lobby governments, international organisations and corporations to adopt fairer policies and take action on climate change.
Finance for development
Long-term development goals can only be achieved with a steady commitment of time, money and systemic change. So we urge governments — both here in Australia and in the countries where we program — to increase aid spending and enact policy frameworks that make progress possible.
HOW YOU CAN HELP
Change a life today by making a donation to Oxfam — helping people grow more food, educate their children, and lead healthy, productive lives.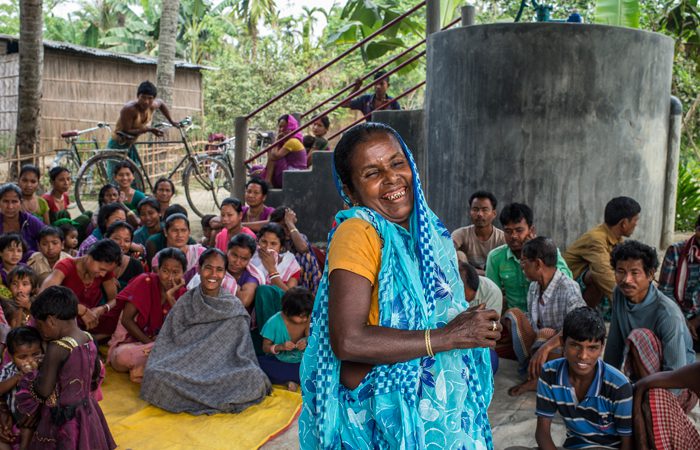 There are many ways you can help tackle poverty and it can be as easy as raising your voice — because your voice is powerful! Lend your support and help us create a just world without poverty.
Shop our gift cards that make a difference. Help people all over the world with Oxfam Unwrapped. Buy charity gifts or charity Christmas gifts and help those most in need.