Tackling poverty together
At Oxfam we believe all lives are equal and no-one should live in poverty.
We join forces with people who share this belief, to empower communities to build better lives for themselves.
That's why we are there on the ground, not only to save lives in times of crisis, but also to develop lasting solutions.
Our work spans wide because there are many causes of poverty. That's why we're also in front of decision-makers, governments and corporations, and speak out on the big issues.
Together we are tackling poverty by changing minds, systems and lives.
We can't do it without you
If you're already an Oxfam supporter, thank you!
If not, we'd love you to join our movement for change — millions of people around the world that are committed to tackling poverty. We've already made great progress, but we simply can't do what we do without you.
A hand up not a hand out
We don't believe in band-aids. We believe in long-term solutions that address the root causes of poverty. We know from decades of experience that the best approach is to work directly with the communities affected by poverty to overcome the challenges they face. That's because no one understands their problems better than they do; they just need a little help.
Together, we can empower people to improve their own lives and create more opportunities for their families. Join our community of supporters who donate regularly and you'll help Oxfam saves lives around the world. It's one of the best ways you can help to tackle poverty.
Our rights-based approach
When people have the power to claim their basic human rights, they can escape poverty – permanently. This core belief underpins our programs in more than 80 countries. With our partners, allies and with local communities, we help people to claim rights for themselves.
Campaigning for change
Poverty has many complex causes, which means that there is no single, quick, or easy solution. Long-term change of the necessary scale requires more than just supporting people on the ground — it also requires political change, which is why our work must increase the power and self-determination of poor and disadvantaged people.
You can have an immediate impact by taking action right now.
Responding to emergencies
People need help in an emergency — fast. With the help of our generous supporters, we save lives by swiftly delivering aid, support and protection; and we help people prepare for future crises. Right now, we're responding to these emergencies around the world.
Enough food for all
Already, almost a billion of us go to bed hungry every night. Not because there isn't enough. But because of the deep injustice in the way the food system works. To stop people going hungry, we work to secure global food supplies so that people always have enough to eat.
Women's rights
Human development is driven by empowered women. But women and girls are still massively under represented and often oppressed. We work to help them speak out and demand justice, and to assert their leadership.
The right to gender justice underpins all of our work.
A fair share
Natural resources are vital for prosperity and poor people are often not getting their fair share. This situation is worsened by the impacts of climate change that the international community is failing to address properly. We lobby governments, international organisations and corporations for fairer land policies and action on climate change.
Essential services
Being able to access basic services such as health and education is essential to people's well-being. We push to secure adequate financial flows to sustain basic services for poor people.
HOW YOU CAN HELP
Change a life today by making a donation to Oxfam — helping people grow more food, educate their children, and lead healthy, productive lives.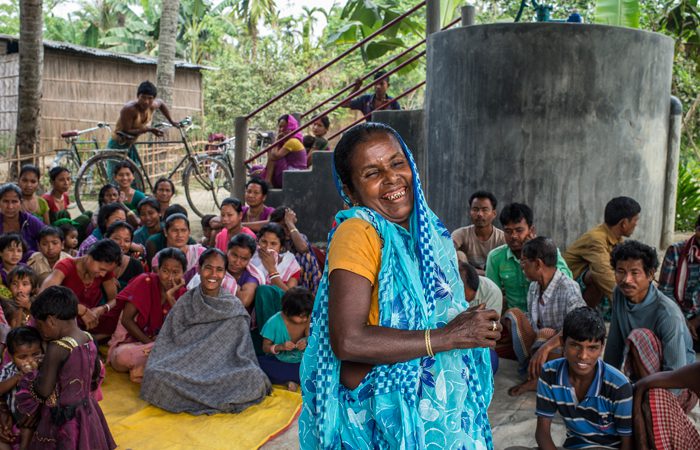 There are many ways you can help tackle poverty and it can be as easy as raising your voice — because your voice is powerful! Lend your support and help us create a just world without poverty.
Partake in a little guilt-free shopping and support communities in 38 countries. Oxfam shops have unique treasures, just waiting for you to take them home.